Another abandoned transaction? Indeed, cart abandonment is a common problem as online shopping can be a long process, giving the buyer plenty of time to opt out. So what can you do to optimise and help lower the cart abandonment rate?
Here are some tips and advice to help you improve the conversion rate of your eCommerce store.
E-buyers and delivery expectations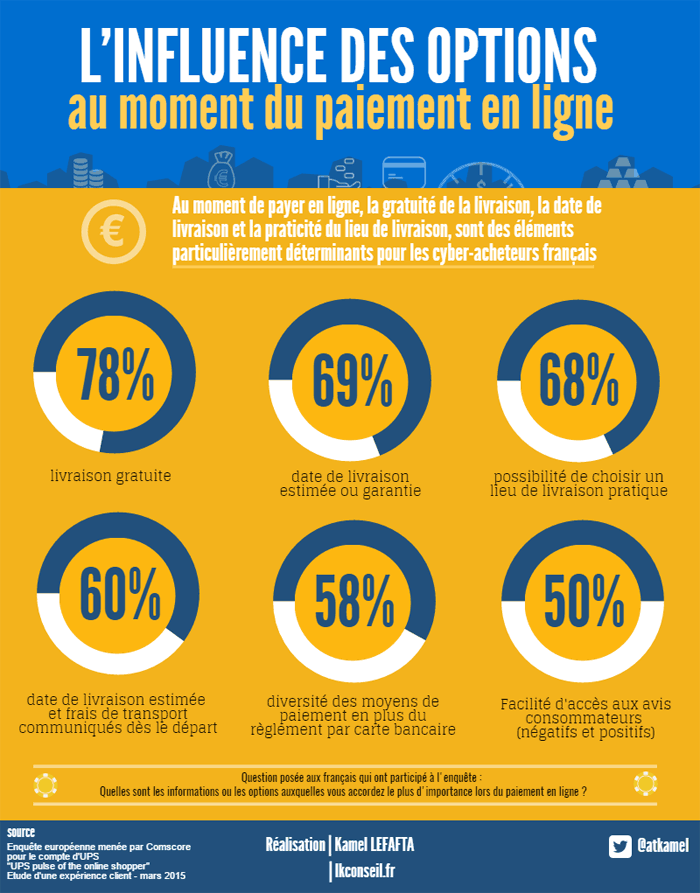 According to a survey conducted by Comscore for UPS (chart by Kamel Lefafta), free shipping (for 78% of online shoppers) and clear delivery details (for 69%) are the most important options for online buyers.
Boxia allows you to ensure an enjoyable delivery experience by providing tools that allow you to engage with your customers via automatic and personalised notifications. Here at Boxia, we believe that successful delivery is based on transparent and efficient communication to offer the customer an enjoyable experience.
Nowadays, delivery is a powerful growth lever for eCommerce websites.
Delivery options to tackle cart abandonment rates
To reduce shopping cart abandonment and boost your online sales, we recommend the following :
Offer more delivery options. This gives customers a better chance to find the option that suits them best and encourages final transactions.
Offer free delivery, even if it means increasing your prices slightly. Free delivery comforts the customer and avoids any issues before the transaction is finalised: it triggers a purchase!
Offer clear delivery options as early as possible during the purchase process. 44% of e-buyers abandon their purchase because of late or unclear delivery terms. This transparency will reassure customers and therefore improve your sales.
—————-
Boxia is a tool that allows online retailers to inform their customers in real-time throughout the delivery process and therefore reduce the number of calls and e-mails to their after-sales service by up to 40%. Boost your customer satisfaction with a unique and effortless delivery experience. Contact us now for more information or to see a live demo of our platform!
You can follow Boxia's latest news and updates on Facebook, Twitter and LinkedIn.
If you liked this article, please share!