Do you know what Amazon, eBay and Cdiscount have in common? They're all marketplaces! Indeed, marketplaces are highly visible online platforms that allow e-merchants to sell their products. However, you need to know how to sell well on marketplaces and which marketplace to choose?
Selling on marketplaces offers many positive aspects for an e-merchant. It offers access to a large audience and a great place to start for new businesses. In fact, 95% of online shoppers say they have already made purchases on a marketplace (purchase and sale combined).
Why should you sell on the marketplaces?
There are several reasons that could push you to join a marketplace to boost your business. Marketplaces have many strong selling points!
To reach a wider audience, different from your usual target customers. Marketplaces are very influential on the web. They generate significant traffic of several million visitors per month, which is a very large audience for online retailers. In addition, via a marketplace, you have access to an audience that may not have been interested in your product range. But by browsing the marketplace, this audience ends up buying your products!
To benefit from a structured solution for online sales. Marketplaces provide services ranging from product catalogues to a secure payment system and stock management tools. These platforms also provide a first level of after-sales service to customers and can take action in the event of customer complaints.
To clear stocks. Marketplaces are also useful if you wish to sell end of series. Thanks to the high volumes of sales on the marketplaces, you will be able to sell your products in excess inventory.
Which marketplaces should you sell on?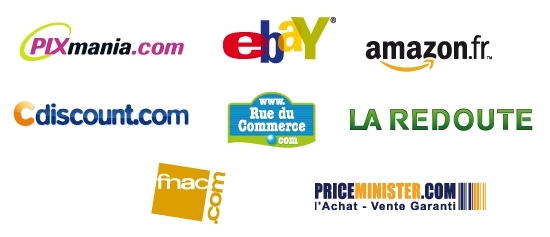 The world market leader is undeniably Amazon, with 14 million visitors each month. It offers very advanced services for both online sellers and online customers. The subscription is 39€/month and Amazon charges a commission of 5% to 15% per order, depending on the product category.

This is followed by Cdiscount, with 9 million visitors per month. This marketplace differs from Amazon by its "discount" positioning, which attracts visitors looking for bargains!

Cdiscount is followed by Fnac and eBay, which each generate a traffic of 8 million visitors per month. Fnac, although not a pure e-commerce actor, is the most competitive marketplace in terms of the number of resellers for a product. As for eBay, it started as a site for auctions between private individuals and then quickly expanded to include professional sellers.

Among the marketplaces that also have a large audience, Priceminister, Pixmania or Rueducommerce are also worth noting. If you want to sell on marketplaces that specialise in fashion, you can also choose from La Redoute, ASOS, Menlook or Brandalley. Finally, as far as shoes are concerned, the specialised marketplaces are Sarenza, Zalando and Spartoo.
Advice on how to sell well on marketplaces
Marketplaces have many advantages for online retailers. However, there are certain aspects to bear in mind in order to avoid unpleasant surprises.
Marketplaces must be part of a set of sales channels and not your only source of income! Therefore, you should continue to invest in marketing to attract customers to your own website as well. Online buyers will often compare the prices and product ranges on the marketplaces with those on your site.
Be aware that selling on marketplaces has many advantages but comes at a certain price. Marketplaces charge a commission ranging from 5% to 30% of sales. An annual or monthly subscription can sometimes be added to this commission. Even if the financial risk is nil (no order, no commission), you must assess whether the commission allows you to keep a sufficient margins…
Avoid selling your best products on the marketplaces: they are key assets in acquiring traffic and building loyalty! Instead focus on the products you find harder to sell and the accessories of your best products. As it is often on these products that you have the best margins, it may be wise to compromise part of this margin to a marketplace. This will increase your sales volumes, and therefore your turnover.
Optimise your logistics policy by adapting your e-commerce delivery policy to that of the marketplace.
We advise you to have a large product catalogue on the marketplace. This will give you greater visibility and therefore better referencing! Moreover, many marketplaces require a minimum of more than thirty references to be able to join them.
Keep track and manage your stocks. Indeed, product availability is essential for visitors. You must always have a minimum stock to be able to ensure sales in the event of an increase in demand on the marketplaces. There's no point in starting to sell on the marketplaces if you know that you won't be able to cope with high order peaks!
—————-
Boxia is a tool that allows online retailers to inform their customers in real-time throughout the delivery process and therefore reduce the number of calls and e-mails to their after-sales service by up to 40%. Boost your customer satisfaction with a unique and effortless delivery experience. Contact us now for more information or to see a live demo of our platform!

You can follow Boxia's latest news and updates on Facebook, Twitter and LinkedIn.
If you liked this article, please share!